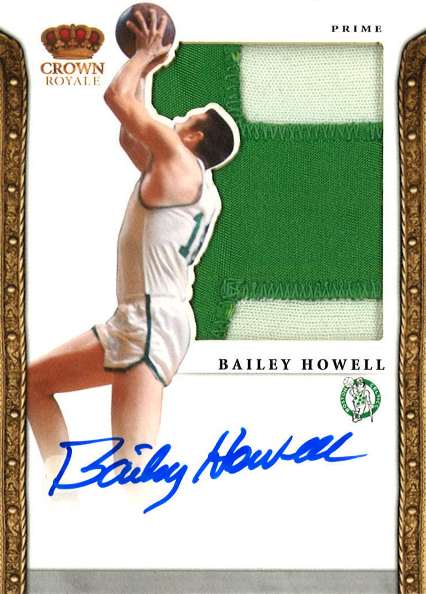 There hasn't been a lot that's come out of the land of Panini lately that has interested me. That's pretty disappointing considering that I'm a huge basketball fan and loved the retro stuff that was coming from Topps. This card in the Beckett preview of 2011 Preferred caught my attention though. I'm not stupid enough to buy one of the $200 packs of this stuff especially since I'm pretty sure that this Howell card will go for less than $50 even though it will be limited to 99 or fewer copies. This card would make an awesome addition to my Celtics retired number autograph collection.
Speaking of Panini, it dawned on me today why I can't stomach any of their products. Without hobby heavyweights Michael Jordan and LeBron James in their products, it's rare that you can pull a card that isn't a low serial numbered parallel that's worth a lot of money. Check out Totally Certified, one of the hottest products in the hobby right now. What are people chasing? Is it a hot rookie auto? No. Is it a hot veteran auto? No. Is it a cool insert set? No. People are chasing the green parallels which are numbered to 5 copies. That's what Panini is all about. There aren't many cards with real value in their products. It's all manufactured value that comes from slapping a low print run on a different colored version of a card that exists in 5 other versions. Yawn.
To all of the baseball card collectors out there complaining about Topps' exclusive license and hoping that Panini gets a baseball license I say, be careful what you wish for because you just may get it.